Top-News
Unser Katalog hat zur Zeit ca 500 Artikel.
Wir lassen Ihnen gerne umgehend detaillierte Informationen zukommen.
Our catalogue currently has approximately 500 products.
We are happy to provide detailed information on request.
Hopi With A Smile
DVD Portrait von Neil David, Sr.
30-minütige Dokumentation (engl.)(PAL) ab sofort erhältlich
DVD portrait of Neil David, Sr.
30-minute documentary (NTSC) now available
Indianer Inuit
Das Nordamerika Filmfestival (#7) findet vom 18. - 21. Januar 2018 wiederum in Stuttgart statt.
The North American Filmfestival (7) in Stuttgart January 2018, precise date to be announced
Santa Fe Indian Market
August 2015
Wir gratulieren
Drei unserer Künstler haben in ihrer Kategorie jeweils den 1. Platz belegt
Congratulations
Three of our artists first in their category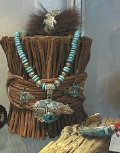 Best of Class Paintings
David Dalasoyha (Hopi),




Best of Class Hopi Katsinam
Mavasta Honyouti (Hopi),




Best of Class Jewelry / Schmuck
Ernest Benally (Navajo)



Alle diese ausgezeichneten Künstler sind mit mehreren Arbeiten in unserer Galerie Kokopelli vertreten.
We carry several works of these artists in our gallery